Minute Burger
Minute Burger

Minute Burger

Minute Burger

Minute Burger

Minute Burger

Minute Burger

Minute Burger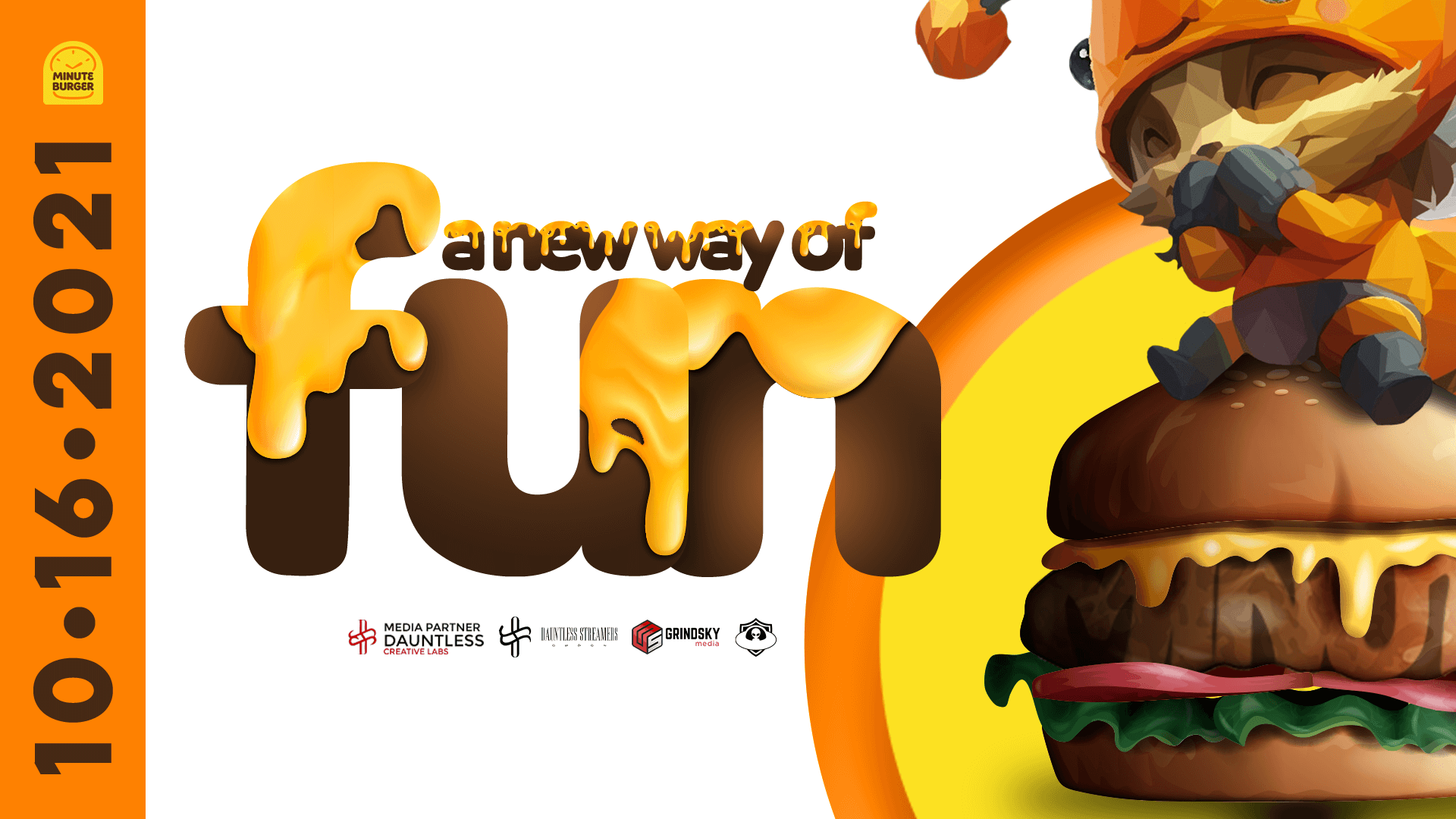 "Dauntless Creative Labs helped orchestrate our first exhibition showmatch and they did all the heavy-lifting without breaking a sweat. From player negotiations to stream overlays, DCL's knowledge in e-sports gave us a mighty push to move forward with our audience expansion on social media."
— Derek Ian C. Vicente, Social Media Campaigns Lead
Esports Event Management
Esports Tournament Branding
Promotional Assets
Stream Direction
Minute Burger is a reputable burger franchise in the Philippines that aims to penetrate the esports market and its audience, starting with an esports League of Legends: Wild Rift Tournament. Subsequently, Minute Burger entrusted us to make it happen through an end-to-end solution.
The heart of the Wild Rift
Community
We intended to further capture the hearts of the community, as well as increase Minute Burger's brand awareness. Today, Minute Burger is the first local burger franchise to support Wild Rift events at this magnitude. Therefore, we created a rich and entertaining brand identity tailored for this showmatch.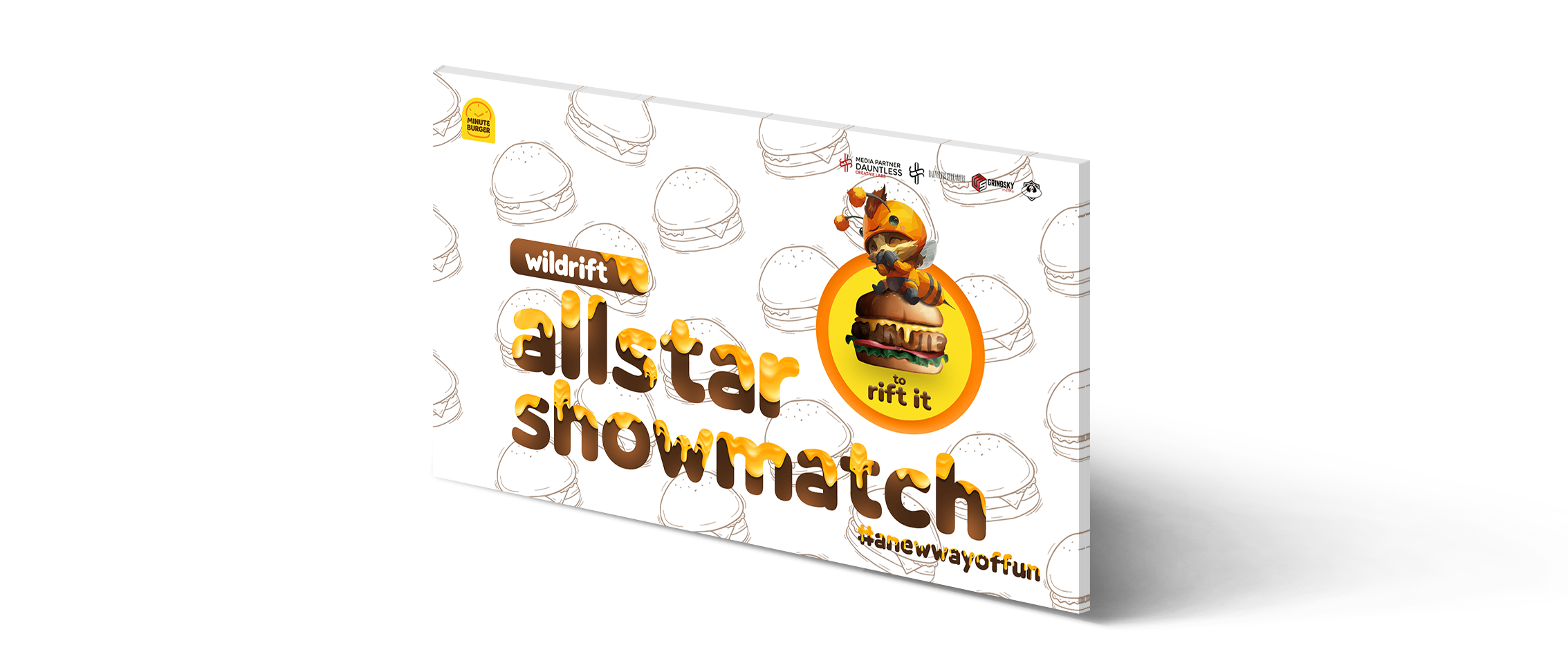 A closer look into the
branding
A rich visual identity was built to promote the Minute Burger brand. Above all, we did not want to sacrifice the aesthetics of Wild Rift as a game, nor the esports culture. Similarly, the color scheme of Minute Burger's branding was used as a base for the logo design, with Teemo complimenting the overall visual.
In line with Wild Rift's art style, we created digital art of Minute Burger's best-selling burger. Moreover, this acted as a segueway into the tournament tagline, "Minute to Rift It." Paired with the bright oranges and yellows, the use of rounded corners and elements evokes a friendly and fun image that is fitting to Minute Burger's brand.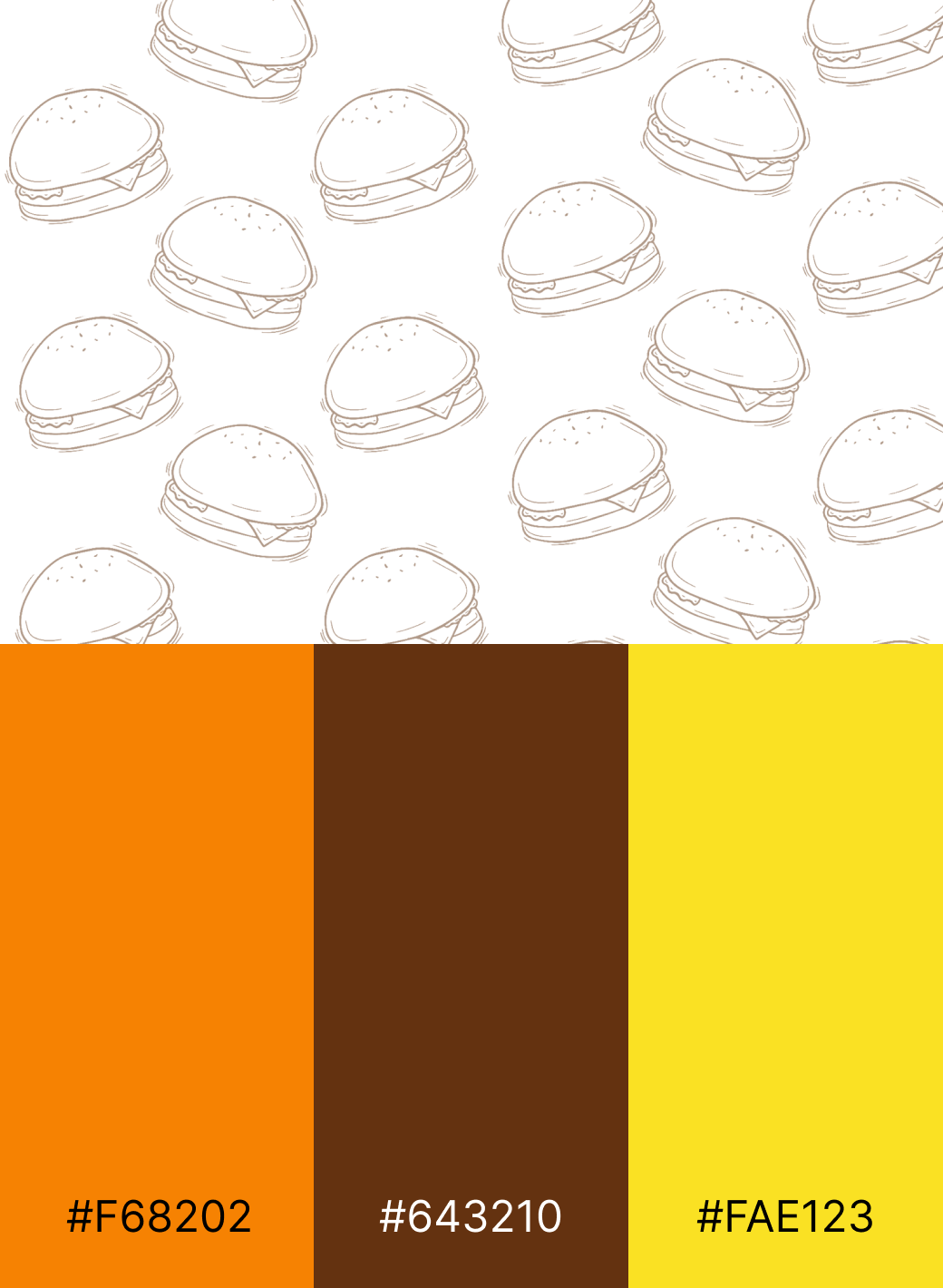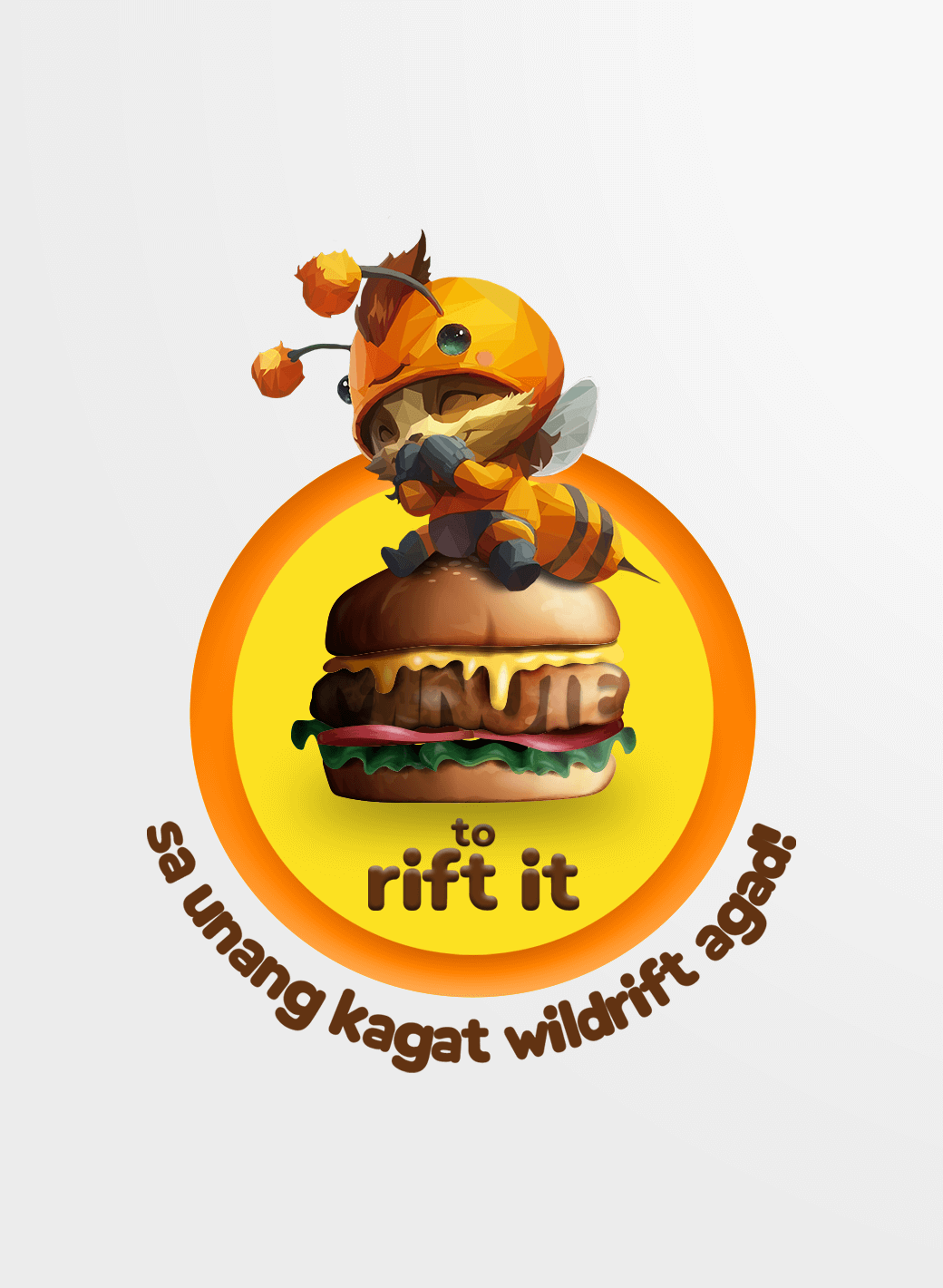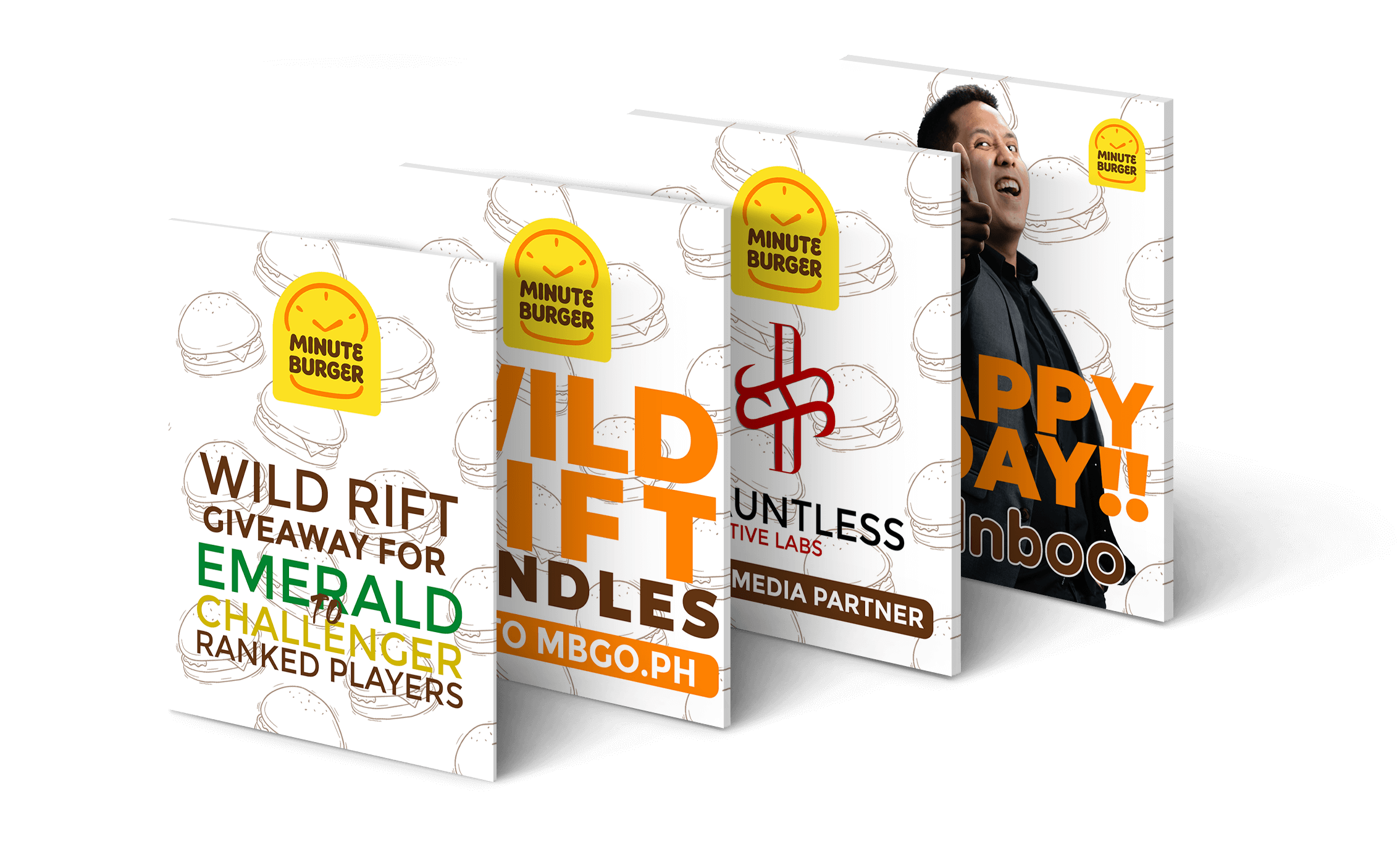 Tournament Livestream Overlays
A showmatch for the
history books
The livestream overlay and tournament stage were made with meticulous attention to detail. The stinger of Teemo flying in with his iconic laughter created an overall theme redefining a fun time. Meanwhile, we studied the local demographics to ensure watch time remained consistent throughout the event.
We were also given the opportunity to organize the program. The challenge was to ensure the tournament received the attention it deserved through views and engagement. With this in mind, we partnered with top tier esports organizations in the Philippines, inclusive of top Wild Rift streamers and shoutcasters. The success of the program resulted in a star-packed event that left a mark on Minute Burger's identity and the esports community.
The shoutcasters for the event were Izaq and Skerpy. They are notable for their global contribution in Esports and casting for both international tournaments and national events. The energy and excitement they brought to the matches fully solidify our brand theme – "a new way of fun."
Launch your next project with us today.
Send us a message and we'll get in touch!
 Firefly Dating App
Firefly Dating App

Firefly Dating App

Firefly Dating App

Firefly Dating App

Firefly Dating App

Firefly Dating App

Firefly Dating App